Climate Change Adaptation/Community Resilience Initiatives
Climate Change Adaptation/Community Resilience Initiatives
Food Security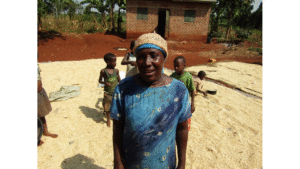 To enhance food security in grassroots communities in this era of climate change, the organization has equipped women with skills in Climate Smart Agriculture. 847 grassroots women have benefited by planting improved seeds which are resistant to harsh weather conditions. The women have also been availed with silos and taplines to enhance value addition.
Tree planting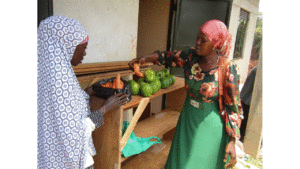 To mitigate climate change, grassroots women have embarked on tree planting. 15000 trees comprising of pine and eucalyptus have been planted. The trees are carbon sinks which sequestrate carbon from the atmosphere.To further mitigate climate change, grassroots women are engaged in fruit tree planting. The fruit trees too are carbon sinks. At the same time the women get fruits to eat and for sell to earn income hence improving on their livelihoods at household level. 6000 fruit trees have been planted by 210 grassroots in Buwenge and Budondo sub-counties. We look forward to scaling this initiative to other new communities.
Efficient energy saving cook stoves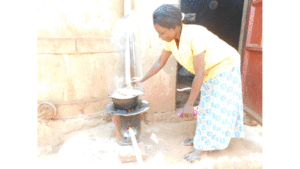 To reduce on the rate of carbon emissions, grassroots women have adopted the use of energy saving cook stoves.  The stoves reduce carbon emissions by 34%. They also save the cost of fuel by 50%.  " I feel very proud of the energy saving stove, it saves firewood, produces less smoke and it conserves the environment. I couldn't afford it thanls to SWID." Says Nabirye Isoba a resident of Buwenge, Kyelinda Village. Grassroots women receive energy saving stoves. 600 grassroots have adopted to using the stoves. However, there is need to scale up this initiative given the fact that most people depend on fuel wood to do their cooking and boiling activities. The stoves avoid 1758.447 tonnes of carbon equivalent per year.
Bio-gas is the way to go!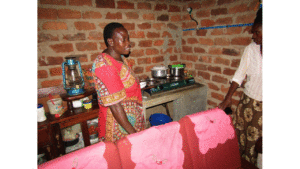 The use of Bio gas is one of the means the women are using to reduce carbon emissions into the atmosphere. This initiative is viewed by our organization as one of the easy ways to increase carbon stocks at grassroot level. The initiative has received deserved appreciation from the beneficiaries and the community at large.