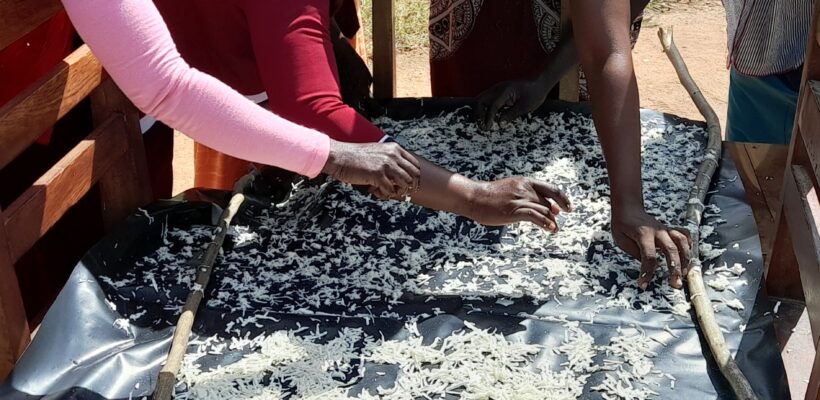 VALUE CHAIN ADDITION AWARENESS RAISING
FAIR FOR ALL. 
IMPROVING VALUE CHAINS AT SCALE- STRENGTHENING GRASSROOTS WOMEN'S PARTICIPATION AND VOICE FOR INCLUSIVE AND SUSTAINABLE AGRI BUSINESS VALUE CHAINS WITH 150 GRASSROOTS WOMEN IN KAMULI DISTRICT KAGUMBA SUBCOUNTY AND KALIRO DISTRICT. 
Women and girls  are most affected. The  women have tried  to  engage in agriculture but it has always  been  at a  small scale  mainly for  household food which  also  doesn't  provide them with  food security.  The land in busoga  is  mostly  covered by  sugarcane,  these plantations owned by  men who don't leave any small portion for food crop growing  leaving  the  women who are  the home makers in the  region to suffer.  Through the FAIR FOR ALL project Sponsored by  HUAIROU COMMISSION AND OXFAM NOVIB,  SWID is raising  awareness for women to own land or hire  land to engage in smart agriculture  for  commercial purposes and building their capacity to participate in trade and value chain addition. SWID is specifically focusing on  cassava  as  both a food crop  and cash crop.

With awareness raising and capacity building we believe  we  shall  empower  grassroots women to participate in trade and value chain addition  with a crop they are  familiar with. We are implementing this project directly with 150 women and girls in 7 farmer groups . Much appreciation goes to @HuairuoCommission and @OxfamNovib for considering the grassroots women to have an  equal opportunity to participate in the  economic development of Uganda through grassroots women and girls participating in VALUE CHAINS ADDITION AND TRADE.